Phillips Curve
The Phillips Curve, if it exists, is defined to be the tradeoff between inflation and unemployment.
The original evidence in favor of the existence of the Phillips Curve was graphical. (See Phillips, A. W. H. "The Relation between Unemployment and the Rate of Change of Money Wage Rates in the United Kingdom, 1861-1957." Economica NS 25, no. 2 (1958): 283-99.)
The evidence is strongest in the U.S. for the era we might label Keynesian Economics: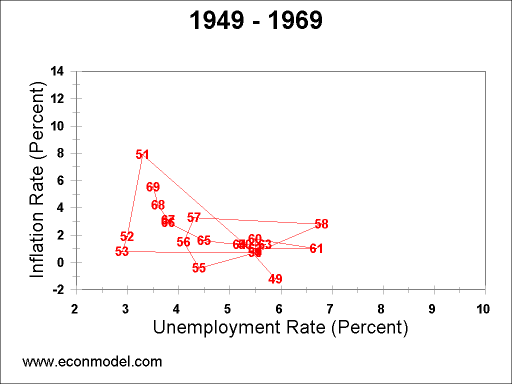 The existence of a stable Phillips Curve came into serious question in the era of Supply Shocks:
The most recent era, which we might label Victory Over Inflation, shows little apparent evidence of a downward sloping Phillips Curve:
For additional information and an animated graphical presentation, see the Phillips Curve.
---
● Classic Economic Models
Interactive presentations of the most important models
in microeconomics and macroeconomics go beyond
anything appearing in a printed-on-paper textbook.
Learn to think like an economist.